More About Dawg Days
Main Content
Dawg Days Freshman Retreat is a four-day program held at SIU's very own Touch of Nature Environmental Center. Students arrive at the Southern Illinois University main campus the day of their session and are transported there. 
Incoming campers will be placed with about 100 other members of your class. Our program is led by 6 camp directors and several volunteer counselors who are all students at Southern Illinois University. Within your camp, you will then be separated into a smaller group led by 2 camp counselors. This small group will provide you with a support system that will last through your entire college career at Southern Illinois University, and possibly beyond. You'll spend time with your small group, your cabin mates, and all of the other participants throughout the course of the program in a variety of settings.
Freshmen are split into small groups of 10-12 students guided by 2 upperclassmen counselors. However, you'll come together in one large group on numerous occasions.
Your camp will begin to share a special bond as you spend time getting to know one another through small group activities and large group challenges.
The entire camp will dine together for meals each day and will come together each evening for themed mixers with upperclassmen and other freshmen. All are a great opportunity to get to know your new Saluki family.
MISSION AND PROGRAM OBJECTIVES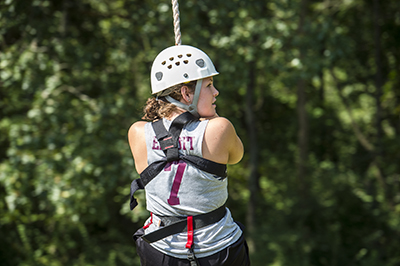 Small and large group activities include:
Zip-lining


Team and large group challenges


Themed evening socials


Canoeing/kayaking


Absolutely no lectures


Tips and tricks for involvement and success
Letter From Molly O'Hare
Let us be the first to say "Welcome home!"
We are so excited that you have chosen to attend Southern Illinois University. Exciting things are happening here in Carbondale and we can't wait for you to experience them with us. The next four years of your life are going to be very rewarding and also very challenging at the same time. Choosing to attend Dawg Days is your first step in diving deeper into the traditions of Southern Illinois University. 
Dawg Days welcomes you into the Saluki Family by providing a dedicated and compassionate group of individuals who share a passion for SIU and for the programs they are involved in. Our passion for serving the next class and easing your transition to SIU is our top priority. Ultimately, we hope that you, as well as every other incoming student, will come out of Dawg Days excited about finding your place at your new home.
Sincerely,
Molly O'Hara - Camp Founder
Fun Facts:
99% of last year's participants recommended our program for future freshmen. 
Early research suggests that 2015 Dawg Days participants on average score higher GPA's than non-Dawg Days participants.
All upperclassmen camp leaders go through an application process to volunteer.
Last year's program participants consisted of students with over 45 different majors of interest.